8th September 2019
How To Choose The Best Hostels In South America
Disclaimer: This is not a sponsored post (however affiliate links may be used, including Amazon Associates, which mean I earn commissions on purchases at no extra cost to you) and all thoughts are my own.
Choosing the right hostels in South America can be a tough and everyone's preferences will be different. There are so many things to think about – budget, location, facilities, same sex/mixed dorms – to name a few!
After spending three months travelling through South America, I managed to crack the code as to what hostels worked for me; it took some trial and error, but I got there! The main thing to remember is that everyone is different and what suits you may not suit someone else.
This post will give you a run down of the things I considered before making any hostel bookings in South America.
For full disclosure, most of the photos used in this blog post are taken from the HostelWorld website – I didn't want to take photos of hostel rooms with other travellers/their belongings in them without their consent. Also, hostel rooms are normally much messier in real life!
RELATED: Why not also read my 3 month South America itinerary which outlines all of the hostels I stayed in?
Location – Close to the City Centre? Rural and Remote?
As a solo female traveller, location was SO important to me. Nothing "bad" happened to me while I was in South America, but that didn't stop me being cautious.
I used to meet a lot of people on free walking tours/activities and then spend the rest of the day with them… and sometimes our day-time fun slipped into dinner or drinks after sunset. Knowing I could end up walking back to my hostel alone in the dark meant that I wanted a centrally located hostel.
I was often booking hostels spontaneously with very little time to research the next destination. The great thing about most South American cities is that they have all have a main square, normally called "Plaza Del Armas". If there weren't many attractions in a city that I knew I wanted to visit/my hostel to be near, I tended to check a hostels proximity to this main square and hope for the best!
I found that Hostel World's "distance to city centre" tracker fairly accurate (I think it monitors the Plaza Del Armas as the city centre in most cities). Where possible, I only booked hostels with that were 1km or closer to the city centre.
Social Scene – Party Hard or Calm and Relaxing?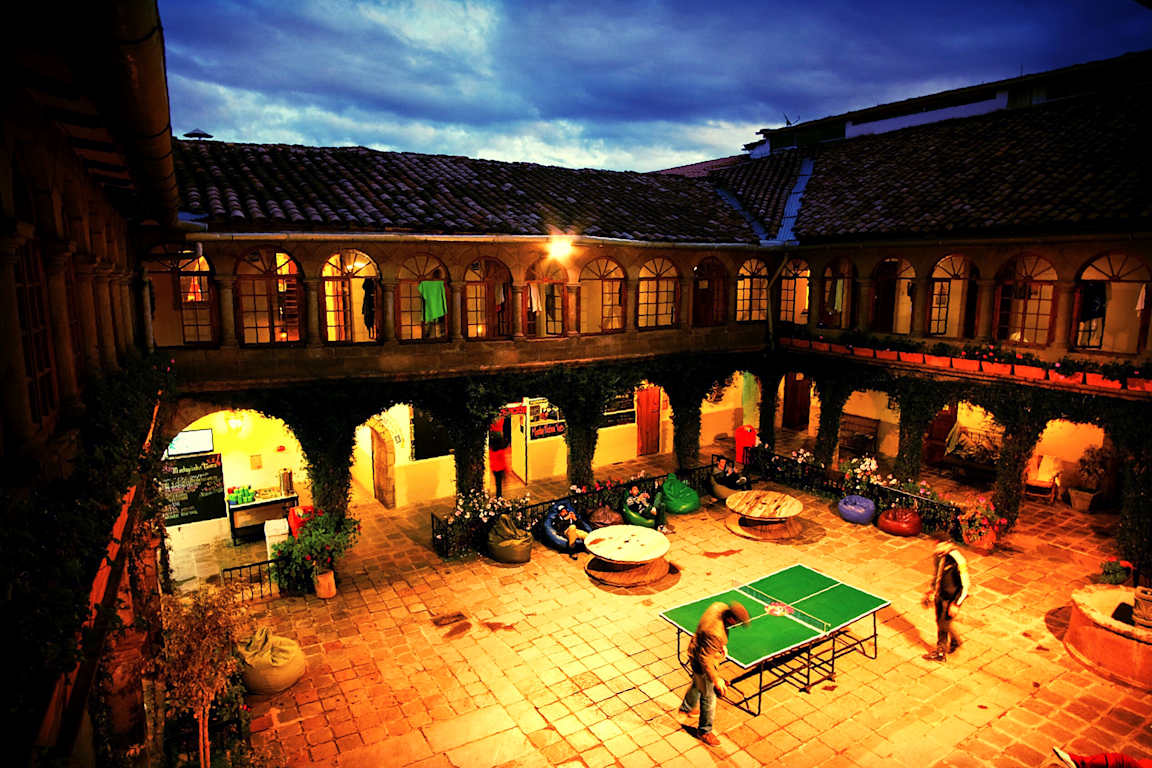 While looking at the location, you also need to consider what type of hostel you want to stay in.
If you're into partying, South America has some incredible hostels for you. One of the most notorious party hostel chains is the Wild Rover which you can find in Peru (Cusco, Arequipa, Mancora and Huacachina) and Bolivia (La Paz).
Personally, I like hostels to have a bit of atmosphere but I avoid party hostels like the plague! I like to be up relatively early and ready for a full day of exploring which is difficult if your hostel has been playing loud music until the early hours of the morning and people have been stumbling into the room throughout the night!
The best way to determine whether whether a hostel will be right for you is to read the Hostel World reviews. For example, one of the hostels that I didn't enjoy my time at during my trip is Pariwana (Cusco, Peru).
Currently, Pariwana has a 9.5/10 rating from 5,791 travellers which sounds pretty epic! However, on a quick read of the reviews, it is evident why this hostel wasn't the right one for me…..
Hostelworld Review – 30 July 2019 – "I really enjoyed this hostel. The beds were extremely comfortable and the bathrooms close. I had only one problem which was the volume of the music. I liked going to the restaurant except I was so uncomfortable because the music was blasting. I see no need for megavolume when you want to relax and eat."
Hostelworld Review – 26 July 2019 – "Very social hostel but generally respectful. If you DEFINITELY don't want people yelling in the halls, don't stay here. But it wasn't that bad. There's always a give and take between quiet, sad hotel and lively hostel where there will undoubtedly be a group of loud, drunk Austrians running around sometimes."
Hostelworld Review – 13 July 2019 – " Slick hostel – big – well run – great beds – very clean – great amenities – beautiful courtyard – lots of activities – they have really nailed a lot of the small details. The only caveat is… the music. It is just so damn loud. They start blasting it early, and it continues at a consistent volume and intensity until very late… and it reaches into ALL areas of the hostel. After hearing despacito 8 times before noon I googled whether it was possible to have my ears medically sealed in Cusco."
Of course, if you're looking for a fun party hostel (like 5,791 other people are), this is the place for you!
Room Type – Gender and Number of Beds
Some hostels offer "female only" dorms and, where possible, I would opt for these. I've never had a particularly negative experience in a mixed dorm, I just find that girls snore less than guys!
My next sentence will be a complete generalization based on my own experiences – it goes without saying that these won't always be true… I tend find that mixed dorms can be a bit more social and lively and girls that choose female-only dorms tend to be more introverted. I've lost count of the times I've struggled to sleep because of people stumbling home in the middle of the night in mixed dorms, but that just didn't seem to happen in female only dorms (despite the fact that females were often doing the stumbling in mixed dorms)!
Once you've decided what gender room you want to stay in (apologies fellas, there don't tend to be too many "male only" dorms in South America, so that option may not apply to you!), the next thing to decide is the size of the room.
Other than personal preference, the main thing that will dictate the size of the room you choose is your budget. If you're on a strict budget, the cheaper rooms tend to have more beds in them. I tend to pick rooms with 4-6 beds (8 as an absolute maximum) purely because this is my personal preference.
RELATED: If you're not sure how far your budget will get you in South America, check out my budget for 3 months of travelling here!
What Facilities Are On Offer?
Next thing to think about is the facilities you need the hostel to have! I've pointed out some of the common facilities below but of course there are many more!
Wi-Fi is normally a MUST in this day and age and most hostels in South America offer it for free. Check the hotel reviews to see how fast it works and whether it's only available in certain areas of the accommodation.
If you are travelling on a budget, it's often important to have a space where you can cook your own meals to avoid paying restaurant prices everyday. I also find that the kitchen is also a great socialising spot in the evenings! I would have been lost on Easter Island if I didn't meet a lovely American couple in the kitchen of Camping y Hostal Tipanie Moana!
Most hostels in South America offer breakfast (often free). However, be warned that if you're travelling through the region for a while, you will get very bored of bread and jam (which seems to be the standard 'free breakfast' offering); it got to the stage where seeing 'incredible breakfast' mentioned in a review would result in an instant booking! Without a doubt, the best free breakfast that I encountered on my travels was at Hostal Forestal (Santiago, Chile).
Despite enjoying quieter hostels, I love when hostels have low-key activities and events on. If you're feeling social, it's a guaranteed way to meet some like-minded people. Once again, Hostal Forestal excelled in this category! The staff were incredibly friendly and they hosted a cocktail night during my stay. We all hung out in the lounge area, playing cards, singing along to music and trying Chilean cocktails – perfect! If no activities are advertised online, photos of a cosy common area are normally also a good sign.
Some hostels also have great tour booking facilities which makes things a hell of a lot easier if you don't have much time to spare. Hostel Lagares (Mendoza, Argentina) was great for booking tours. I had 3 days to make the most of my time in Mendoza and the helpful staff sorted out a last minute itinerary and made all of the necessary bookings for me – perfect! Generally, I like to do my own research and make my own bookings, but sometimes it's nice to treat yourself and let someone else do the hard work!
Luggage Storage is imperative in some destinations. For example, if you're thinking about doing any of the treks to Machu Picchu, you need to make sure that your hostel will keep your luggage safe while you're busy trekking!
Now, enough of the mundane facilities, these are the ones you need to look out for!
Where to Search/Book
Hostelworld is usually my first port of call when searching for hostels. I find that the reviews given are accurate and you can get a good feel for the hostel based on the information provided.
Booking.com is a great alternative. In comparison to Hostelworld, I find that there are normally less hostels listed on Booking.com, however it's a great place to look for alternative cheap accommodation, such as:
La Posada (Latacunga, Ecuador) – 4 of us shared a huge private room which had 5 double beds for $10 each!
Hostal Pucara (Loja, Ecuador) – This was a pit-stop to break up some long bus journeys. There didn't seem to be any hostels around, but I managed to book a large private room here for £9!
And of course, there are some special properties that can only be booked directly, such as:
Secret Garden Cotopaxi – the most epic hostel set in the middle of nowhere overlooking Cotopaxi volcano. Here you can enjoy free hiking tours, all inclusive food and enjoy an all round magical experience. Read more about my time in Cotopaxi here!
Izhcayluma Hostel – I had heard about Izhcayluma before arriving in South America and KNEW I had to visit! A bed in a dorm costs less than $10 and includes morning yoga classes. This is the ultimate place to relax.
Have you travelled through south America? If so, what dorm style suits you best?
Like this post? Be sure to pin it!