7th March 2020
How To Use The Santiago Metro
Disclaimer: This is not a sponsored post (however affiliate links may be used, including Amazon Associates, which mean I earn commissions on purchases at no extra cost to you) and all thoughts are my own.
Santiago is a great city with so much to see and do – it can be overwhelming knowing where to begin and how to get around! Given that many South American cities lack Metro systems, Santiago stands out from the crowd when it comes to transportation.
Thankfully, the Santiago Metro system is super easy to use (even for someone with sub-par Spanish speaking abilities like me)! With 5 colour-coded lines and 108 stops, you'll be sure to find your destinations somewhere on the map!
RELATED: If you're wondering what there is to see and do in Santiago, read this post!
Purchasing a BIP! Card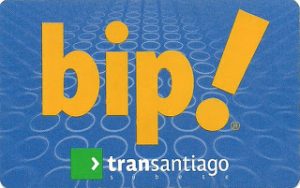 Individual Santiago Metro tickets can no longer be purchased and instead, you'll need to get your hands on a BIP! Card (essentially, the equivalent to the London oyster card).
A BIP! Card costs 1,500 CLP (approximately £1.50) and you can top up the card at all metro stations to cover your upcoming transport (an initial credit of 1,000 CLP (approximately £1) must be added to the card in order to activate it).
To purchase the card, head to your closest metro station or be cheeky and ask your hotel/hostel whether guests have left spare cards lying around!
Unlike the London Underground, no matter no matter how far you travel, the price will stay the same. Prices per journey range between 610 CLP (approximately £0.60) and 750 CLP (approximately £0.75) depending on whether you are travelling at peak time or not.
To use the BIP! Card, you simply tap the card onto a reader as you enter the station/platform. If you are travelling in a group, you do not need to purchase one card per person. You can use the same card to tap into the station as many times as you like!
Unfortunately, cash must be used to purchase the BIP! Card and make any top-ups.
RELATED: The Santiago is clearly cheap and efficient to use, find out how much I spent travelling for 3 months through South America here!
Navigating The Metro
Navigating The Metro couldn't be easier! There are 5 colour-coded lines (shown above), so once you have determined your route, head to the platform of the line that you need.
Each line travels in both directions and the platform will be clearly labelled with the final stop of each direction – super easy to make sure you're going the right way!
You can make a maximum of 2 transfers between lines from 120 minutes from your initial BIP! Card swipe without being charged an additional fare, which is super handy.
My experience of the Metro in Santiago is overwhelmingly positive. The trains are clean, efficient and generally run on time. If you are travelling at rush hour, you can expect to be packed onto the trains like sardines (but that can be expected in any city)!
I read many warnings about pickpockets on the metro lines but thankfully I had no issues with this at all (despite being a young, female, solo traveller who doesn't speak Spanish)!
RELATED: I used the metro to begin day trips out of the city too – find out about my time in Valpariaso and Vina Del Mar!
Taxis in Santiago
If you're travelling with luggage during rush hour etc. it may be more beneficial to jump in a taxi. Much to the dispair of foreign tourists, Uber is currently illegal in Chile and it can be difficult to organise pick-ups. Drivers will cancel the pick-up if they think they will be spotted by police.
You can however download the EasyTaxi app which works in a similar way to Uber.
Otherwise, taxis in Santiago are notorious for ripping off tourists/'gringos', so be sure to use your common sense and agree a price before entering the taxi.
Have you ever been to Santiago? Were you impressed with the Metro system?
RELATED: Santiago was my starting point in South America, read my full 3 month itinerary here!
Like this post? Be sure to pin it!