6th April 2016
My 2016 Travel Bucket List
Disclaimer: This is not a sponsored post (however affiliate links may be used, including Amazon Associates, which mean I earn commissions on purchases at no extra cost to you) and all thoughts are my own.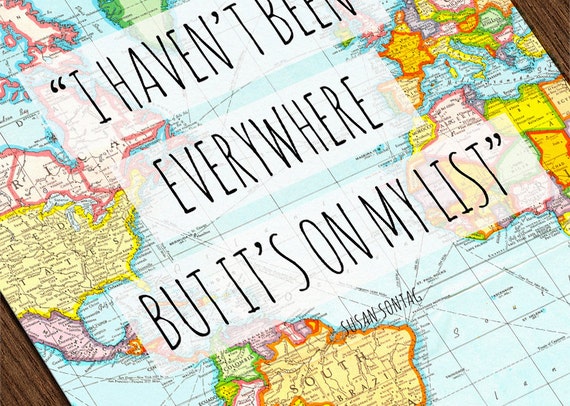 Buy this print here – Credit to the rightful owner
Why hello there guys and girls! This is a very belated post. Lots of people wrote posts like in January to signal the start of the new year, however I don't like to play by the rules and thought I'd keep you all guessing (not that you probably care where I'm going this year, as long as I have pretty pictures to show you all).
2016 is going to be a bit of a rubbish year for me travel-wise. Not because I'm not visiting amazing places (of course I am!), but because I'm very restricted about what time I can and can't be out of the country. I've had to cancel some trips (read more about that later!) and my year very much revolves around work and studying.
I'm currently studying to become a Chartered UK Tax Advisor and the exams are TOUGH. I'm told that in the US, the term "chartered" is somewhat equivalent to a Certified Public Accountant for example if that puts things into perspective? I have lots of deadlines to meet, lots of courses to attend etc. which really hinders my travel ability.
But without further ado, these are the plans I've managed to rustle up so far!
January 2016
Sadly, as I work in personal taxation in the UK, January is an absolute no-go for travelling due to a big deadline on 31 January. So instead, I spent the month tirelessly submitting my client's tax returns, working and commuting all hours of every single day – alas, the overtime money will cover my travelling needs, so there's a light at the end of every tunnel!
February 2016 – Various Locations in the UK
I wanted to go away in February SO much. After the stress that is January tax season, I felt like I needed a break, but I also felt like I wanted to sit on a sofa all day and vegetate until it wasn't certain whether I was still alive or not. So instead I took a happy compromise and spent my weekends traipsing backwards and forwards from Essex to Leeds to see my boyfriend who is currently studying up North. I wish I had more to show for these trips but for some of them I was ill and spent most of the days in Leeds in bed and waiting for pizza to arrive. What a life. However, I did discover my love affinity with the beautiful city of York – read all about it here!
March 2016 – Kraków (Poland)
YAY, finally it's time for me to start properly exploring again. Starting with a long weekend in Kraków with 3 friends. This trip had been booked for MONTHS in advance, so it's safe to say that we were excited! Kraków is a beautiful city but didn't quite live up to my expectations. However, I am very glad to have ticked Auschwitz off of my ultimate bucket list! Read my first thoughts on the city here – more blog posts will be coming in the upcoming weeks!
April 2016
Unfortunately, another quiet month for me. I have one of the potentially hardest exams I will ever sit in my life at the beginning of May, so I am on lock down, spending every single waking moment of April either working or revising (apart from the time spent writing this blog post obviously hehe).
May 2016 – Lake Ohrid (Macedonia)
Photo credit here.
FREEDOM. My exams are over and some of my friends are graduating university. What's the best way to celebrate? Take your best friend to Lake Ohrid for a few days as her birthday present. Unwind, soak in the beauty of the former-Yugoslavian country, have great food, hopefully great weather and just generally have a great relaxing time. We're only in Macedonia for a few days but might be able to manage a daytrip outside of Ohrid. Is there anywhere that you would definitely recommend?
June 2016 – Salzburg & Halstatt (Austria)
Photo credit here.
And we're heading off to Austria! Myself and two of the girls from work (you may recognise them the beauties in my Prague posts) are off to Salzburg with hopefully a stop off at Halstatt also! While Vienna looks beautiful and I've heard great things about it, flights and accommodation were hideously expensive and Salzburg looks like a great alternative. I haven't seen half as many blog posts on Salzburg as I have Vienna, so hopefully you will enjoy that!
July 2016 – Tallinn (Estonia)
Photo credit here.
This trip isn't yet booked, but hopefully in the next few weeks the entire thing will be under way! My amazing friend Grace (of the hilariously written, deep, meaningful and all-round amazing blog Finding Graceland) has always wanted to go to Tallinn and after our amazing trip to Copenhagen together last year with two other friends, we knew the 4 of us need to make another trip. I couldn't be more grateful to have these 3 lovely people in my life and can't wait for another trip with them, even if we don't end up in Tallinn (but lets be honest, we will if Grace and I get our way!).
I had 2 weeks in Zimbabwe booked for a volunteering/safari experience with a trip to Victoria Falls but I had to cancel it due to work/study commitments. I am so gutted but hopefully I can do that trip next year!
August 2016 – Cologne (Germany)
Photo credit here.
My boyfriend and I are taking our very first international trip together! We're heading off to Cologne for a few nights and I can not wait. The entire trip was based around the fact that Eltz Castle was seemingly popular on my instagram at one point and I decided that I simply couldn't not visit! Although it isn't a new country for me, so doesn't mean I can update my "Been" app or my scratch-off travel map – dammit!
September 2016 – It's a Surprise!
So I have a little something in the works for September but it's a surprise for someone special's birthday and I don't want to ruin the surprise! As a few clues – it's reasonably close to home, looks absolutely stunning and will make the perfect short September break (that narrows it down to practically the whole of Europe). Unfortunately it's an early birthday present for someone as I can't go away in October boo!
October 2016
Another quiet one for me as I have exams in the first week of November (on my birthday too boo-hoo!). P.s. my birthday is on 2 November and donations to the Danielle birthday fund are welcome.
November 2016
This is when our busy period really starts kicking in at work, so I can't really take any more time off than necessary. I'll probably spend the latter part of the month having belated birthday celebrations in the UK with my nearest and dearest. *starts singing Taylor Swift's 22*
December 2016 – Undecided – Maybe Iceland?
Photo credit here.
Each year I get somewhere between a week and 2 weeks off work as the office closes due to Christmas and New Years. Last year, I used this time to go to Amsterdam and I really want to get away again this year – preferably somewhere Christmas-y! I have been thinking about heading to Iceland, but it seems so expensive, I'm not sure I can justify that amount of money around Christmas time (I do like to spoil people on special occasions after all!). Also, a lot of people seem to be heading to Iceland at the moment. I'd love to go somewhere off-the-beaten-track. I'd love to hear where you like to go around Christmas!
Other Plans
I do have a few more days off work that I can play with. There's only a few days, so I can't go too far a field, however any recommendations would be great! I'm thinking about maybe spreading my horizons and leaving Europe and heading to Morocco? After all, a girl needs a bit of sun during the year!
2017
Get ready for some really exciting plans for 2017. I'll be done with studying in May 2017 (hopefully) and can go further afield, take more time away, potentially take a sabbatical from work for a few month long trip – I can't wait!
I'd love to hear where you're going this year! Do you have any exciting plans? Have you already visited some of the locations I have booked? Do you have any recommendations! I hope you all have a fantastic travel year *raises champagne glass*.
Disclaimer: This is not a sponsored post and all thoughts are my own.
Follow my blog with Bloglovin